LOT
#27
|
Sign-in or Join (free & quick)
Christien Meinderstma (Dutch, 20th Century). Knitting needle, spool of wool, sample hinge , 2010. Benefitting The Natu...
Click the image to load the highest resolution version.
Description
Christien Meinderstma (Dutch, 20th Century)
Knitting needle, spool of wool, sample hinge , 2010
Benefitting The Nature Conservancy: design for the living world

Wood and wool
4 x 6 x 2-1/2 inches (10.2 x 15.2 x 6.4 cm) (rug hinge)
10 x 10 inches (ball of spun wool)

Christien Meinderstma
Christien Meindertsma, a graduate of the Design Academy Eindhoven in the Netherlands, works with farmers to build relationships with the living sheep and rabbits that provide materials for her work. For The Nature Conservancy, she traveled to Lava Lake Ranch in Idaho to meet the ?ocks of sheep that provided the organic wool for her rug tiles.

Meindertsma makes her own felted wool yarn and knits it together with custom-made oversize needles. By greatly enlarging traditional sweater stitches, she casts familiar textures in a new light, amplifying the qualities of the material.

"A lot of the value of a product lies in knowing where it comes from, how it grows, and in what amounts. This information tends to get lost when things are made all around the world and not in your own backyard," Meindertsma says.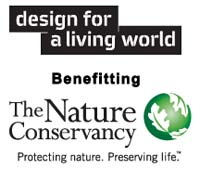 Design for a Living World
asks us to think about the products we use-where they come from, how they are made and the impacts they have on our planet.
The Nature Conservancy invited ten designers to create new OBJECTS from sustainable MATERIALS sourced from the world. Wood, plants, wool and other organic materials were transformed into intriguing objects, revealing extraordinary stories about regeneration and the human connection to the Earth's lands and waters. Together, designers and consumers can reshape our material economy and help to advance a global conservation ethics by choosing sustainable materials that support, rather than deplete, endangered PLACES.
Lot will be shipped FedEx to winning bidder, approximate cost of $35 plus insurance.
Condition Report*: Condition report available upon request.
*Heritage Auctions strives to provide as much information as possible but encourages in-person inspection by bidders. Statements regarding the condition of objects are only for general guidance and should not be relied upon as complete statements of fact, and do not constitute a representation, warranty or assumption of liability by Heritage. Some condition issues may not be noted in the condition report but are apparent in the provided photos which are considered part of the condition report. Please note that we do not de-frame lots estimated at $1,000 or less and may not be able to provide additional details for lots valued under $500. All lots are sold "AS IS" under the Terms & Conditions of Auction.
Auction Info
October, 2012
25th-27th Thursday-Saturday
Lot Tracking Activity:
N/A