Yves Behar (American, 20th Century). Tree Branch Cocoa Grater, Sketches, Cocoa Pouch, 2010. Benefitting The Nature...
Click the image to load the highest resolution version.
Sold on Oct 25, 2012 for:
Description
Yves Behar (American, 20th Century)
Tree Branch Cocoa Grater, Sketches, Cocoa Pouch, 2010
Benefitting The Nature Conversancy: design for a living world

Grate: aluminum, hardwood. Pouch: burlap, rope. Sketch: paper
4-1/4 x 5-3/4 x 1 inches (10.8 x 14.6 x 2.5 cm) (Pouch)
51/2 x 1 1/4 x 3/4 inches (Grater)
8 1/2 x 11 inches (Sketch)

Yves Behar
Since founding the company fuseproject in San Francisco in 1999, Yves Behar has attracted a range of clients-including high-tech giants Toshiba and Hewlett-Packard and the counterculture footwear company Birkenstock. He places primary value on human experience and actively seeks ways to improve public health and welfare through design. Among his most influential designs is a laptop created in partnership with the One Laptop Per Child program that gives children in developing countries better access to education via computers and Internet connectivity.

The Nature Conservancy commissioned Behar to visit Costa Rica and create a product that utilizes organically grown cocoa by an indigenous women's group.

"We designed a product that celebrates the process of preparing cocoa. The design is simple and elegant but also primitive and ritualistic," Behar says.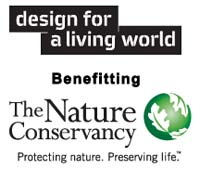 Design for a Living World
asks us to think about the products we use-where they come from, how they are made and the impacts they have on our planet.
The Nature Conservancy invited ten designers to create new OBJECTS from sustainable MATERIALS sourced from the world. Wood, plants, wool and other organic materials were transformed into intriguing objects, revealing extraordinary stories about regeneration and the human connection to the Earth's lands and waters. Together, designers and consumers can reshape our material economy and help to advance a global conservation ethics by choosing sustainable materials that support, rather than deplete, endangered PLACES.
Winning Bidder may pick up at CGMUSEUM, October 30-31 or lot will be shipped FedEx, approximate cost of $25 plus insurance. Contact: 305-528-4539 or DLWAUCTION@GMAIL.COM.
Condition Report*: Condition report available upon request.
*Heritage Auctions strives to provide as much information as possible but encourages in-person inspection by bidders. Statements regarding the condition of objects are only for general guidance and should not be relied upon as complete statements of fact, and do not constitute a representation, warranty or assumption of liability by Heritage. Some condition issues may not be noted in the condition report but are apparent in the provided photos which are considered part of the condition report. Please note that we do not de-frame lots estimated at $1,000 or less and may not be able to provide additional details for lots valued under $500.
Heritage does not guarantee the condition of frames and shall not be liable for any damage/scratches to frames, glass/acrylic coverings, original boxes, display accessories, or art that has slipped in frames.
All lots are sold "AS IS" under the Terms & Conditions of Auction.
Auction Info
October, 2012
25th-27th Thursday-Saturday
Bids + Registered Phone Bidders:
0
Lot Tracking Activity:
N/A