---
Larry Cooper's Story
- Larry Cooper
Fitness Director
---
Frank Martell's Story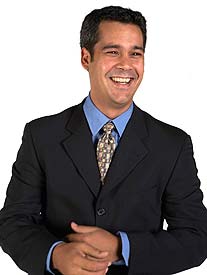 I've worked for two other auction houses prior to arriving at Heritage. One was a family owned independent auctioneer and the other was one of the mega British corporations. While both opportunities were outstanding learning experiences, neither came close to providing the satisfaction I have enjoyed as a Heritage employee. This is a company that is accustomed to winning and encourages its employees to continue winning. It's not about having a job, a career or a field of expertise --- it's about establishing perfectionist goals in the hopes of merely attaining excellence, if not dominance. Our leadership, our culture, our technology and our mission are all aligned with the needs of every one of our clients --- which is why we can deliver a product that is superior to our competitors in every way. Any achievement-driven specialist who is passionate about his or her category wants to work for a winning team, and Heritage is very good at giving such specialists the opportunity to expand on a winning tradition. You simply can't ask for more than the tools to succeed --- but then you have to challenge yourself to live up to them.
I am unequivocally happier --- personally and professionally --- than I have ever been in my life. In the two years since joining the Heritage team I have run two marathons, quit smoking and bought a house. I'm not sure I have been in a place I could have accomplished any one of those things at any other point in my life.
A client and friend of mine of over 10 years said something recently that I would like to share. He said that he had always respected me and appreciated my counsel, but that he can see that Heritage has turned me into someone who can dominate the field. I loved hearing that, but there is a lot to be said for the teams behind me. This is an awesome place to be, and I enjoy my coworkers as much as my work.
I hope I can live up to the early promise of the category.
- Frank Martell
Director of Fine & Rare Wine
---
Margaret Croft's Story
I love working in my chosen profession of advertising, in a creative Marketing department with a fast-paced atmosphere. I feel fortunate to work with the great team we have here. Our Marketing boss is A-OK too! She knows we are all capable in our roles and allows us to manage our own time and responsibilities.
It's a bonus to have access to the company execs on a daily basis. So often, employees hardly know management and would never have a voice. Our leaders are all approachable and genuinely Nice Guys!
We have medical benefits as most companies do, but we have extra perks that amaze everyone I tell. We have access to a free gym, we have a wellness program that promotes good health and we have fruit provided at all times :). I have also benefitted extremely from the Slimming World classes we have been granted. 35 pounds lost and more to go! And let's not forget the great BBQ lunches and Holiday parties we have annually. All these things make our work environment more inviting.
This is certainly the most interesting workplace I've ever had. Since I have access to many departments, I get to see all manner of exciting and historical items that have been consigned to auction. In five years, I have learned much about the auction process. It's fascinating to watch a Comic book sell for a million dollars!
As for pictures, one is worth a thousand words. Our TEAM! Were the 80s really that bad?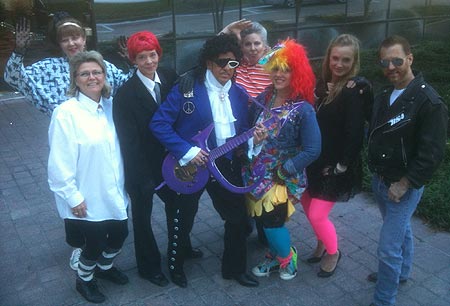 - Margaret Croft
Account Executive
---
Michael Riley's Story
It was October 2004 when I came to work for Heritage after having been aware for years of their position in the rare coin and comic markets, having had friends who enjoyed working there, and most importantly, having previously been a satisfied consignor and client. When hired, I was tasked with setting up an eBay presence for general collectibles. The work was well-suited to my longtime passion for collecting and researching material in the historical and pop culture areas. Things went smoothly and early in 2005, during what's affectionately known here as "catalog crunch," I was asked to do some cataloging for both the Entertainment and Americana departments. I remember that one of the lots I was asked to research and describe in the Entertainment area was right up my alley --- the microphone used by my hero Johnny Carson on the Tonight Show . Wow!
In Americana, I was entrusted with not only documents written by our nation's founding fathers, but also Howard Hughes' very own brown hat as well as some of his love letters. The next Entertainment auction found me working on more Johnny Carson memorabilia, much to my delight. The main item was his Tonight Show desk , followed by the Tonight Show studio clock , Carson's studio floor "mark," and even his recorded college senior thesis on "How to Write Comedy for Radio." This was one of the first times I had my photo taken with a favorite lot (something we often do around here). This image shows me sitting at Carson's legendary desk; his floor mark is at left and the studio clock partially visible at right. In my home state of Kentucky, we have an expression for where I was that day --- "hog heaven." By the way, I'm sitting in front of an original Norman Rockwell painting that soon after sold for $478,000. Later in 2005, I was transferred to the Historical department fulltime as Chief Cataloguer and Historian, where I am today.
By this point, I was pretty sure that I was a Heritage "lifer." Here was a strong, growing company with a level of honesty and transparency unheard of in the auction industry (not to mention the good pay and benefits); I was surrounded by incredibly talented and brilliant people; and most of all, I got to handle, research, and write about some of the most amazing items in the world. Heritage is the place where I've come in contact with musical instruments owned or played by the likes of John Lennon, Hank Williams, Elvis Presley, and Jimi Hendrix; documents and letters written by Abraham Lincoln, George Washington, and Benjamin Franklin; a handwritten copy of " 'Twas the Night Before Christmas " in the author's hand; and the handwritten notes Buzz Aldrin used as he took communion on the moon in Apollo 11's Eagle just before becoming only the second man to walk on the surface of that distant celestial body. I could go on and on citing more of the exciting treasures that have passed through my little corner of the wonderland known as Heritage Auctions. A very cool place to work? Well, yes!
Did I mention that we also sell dinosaurs?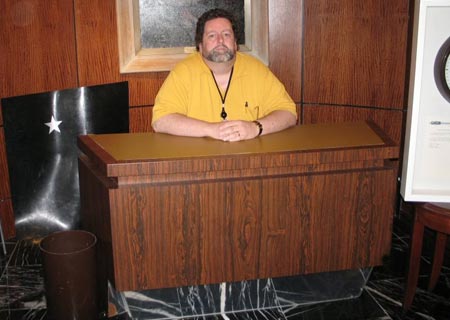 - Michael Riley
Chief Cataloger and Historian
---
Brian Shipman's Story
As a child I had four primary passions: stories, puzzles, technology, and collecting. If you were able to tiptoe into my room during my junior high years, you would find a copy of A Wrinkle in Time , a Rubik's cube, a Timex Sinclair 1000 computer, and a blue Whitman folder labeled "Mercury Dimes" --- half-filled with coins my father and I dug up together with the help of a White's metal detector.
I never imagined that 20 years later, I would be able to combine all of those passions into a single career. I felt like a kid all over again. I still do.
I became part of the Heritage story in early 1999, joining a family of 80+ people. My puzzle: get online auctions running, make sure the search engines lead others to us, and begin online customer support. My technology was whatever I needed, thanks to the company's vision. And my collection? Everything . I went from a simple coin collection at home to the world's largest coin auctioneer. I was surrounded by every coin I had studied as a child. And now my job was to surround everyone else in the world with those coins.
The success of our online presence combined with the company's strategic vision has written new chapters in the Heritage story. We have five-times as many employees as when I started. I'm surrounded by innovative software developers, network engineers, project managers, and support technicians who also enjoy the unique experience of connecting collectors with the things they love.
New puzzles emerge every day. We strive to stay on the leading edge of emerging technologies to drive a better experience for our clients --- through our website, mobile devices and applications, social media channels, and those moments in the live auction when a bidder on the floor and a bidder overseas on Heritage Live are in a fight to the finish.
There are those days when the work behind the scenes can feel overwhelming, and that's when I sneak over to a friend's office in another department and sit down and say, "Show me something." It is in that office that I have seen amazing things --- moon mission flight manuals, handwritten notes by Abraham Lincoln, illuminated manuscripts over 700-years-old, and so much more. After a few minutes of focus on those rarities, I am ready to return to leveraging the technology that enables these items to enrapture others the way they enrapture me.
Everything we offer for auction is a unique item with a unique story. My puzzle never changes: make sure anyone in the world who wants any one of our auction items can see it, learn its story, determine its value, and bid with ease and confidence. My technology is always changing, helping me solve the puzzle more effectively every day. And my passion for collecting has never been stronger.
I can't imagine a better place to work. I am truly blessed to be a part of the Heritage family.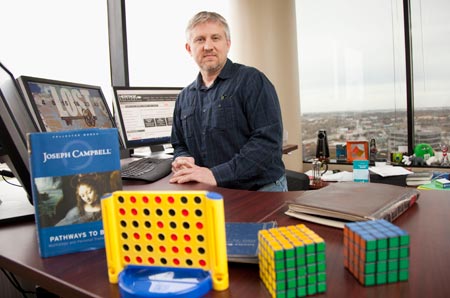 - Brian Shipman
Chief Information & Technology Officer
---
Mike Gutierrez's Story
I was once told by a grammar school teacher that I did not have what it took to have a "normal" career, so I just focused on all my hobbies and never looked back. This was at a time when there was no collectible profession, other than stamps & coins.
Here I am decades later at Heritage Auctions expanding all my knowledge & enthusiasm into a modern day business! Heritage allows me to tap into other areas of my expertise, such as: vintage guitars (I've played & collected since I was a teenager), rock 'n' roll, entertainment (I am a former ABC TV development executive) & historical, plus discovering that I have the same capabilities to contribute in other categories. Heritage is an almost endless pool of collectibles and its fun to meet other animated individuals like me that have followed similar paths.
I have woken up many a morning to find unexpected treasures & leads awaiting my inbox that I can't wait to uncover and close. That is the single, major day to day drive that gets me motivated, no question --- Adventure is my game! There is the same sensation when I start my day at the Antiques Roadshow, appearing for Heritage Auctions (photo below). My first thought is, "What am I going to be surprised by today? It's going to be something good, I know." In Abilene, while working a Roadshow for Heritage I found a gentleman with a 1952 Fender Telecaster guitar in perfect condition (photo below) and was paid back by the emotions on that man's face when I explained all the details and gave him the value of his appraisal. That's just a good feeling to give to another person!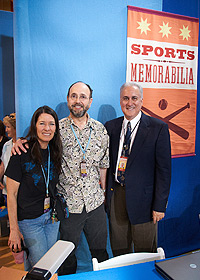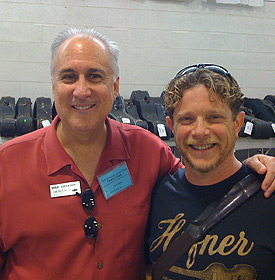 - Mike Gutierrez
Consignment Director
---
Michael Weems's Story
- Michael Weems
Chief Digital Officer
---
David Tosh's Story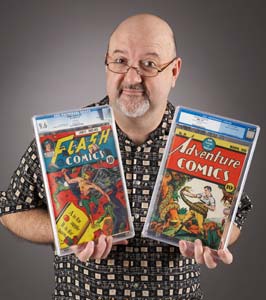 I suppose all employers want to know that their staff loves their job. For me, it's more than love --- it's a God send. I guess I've been training for my job as Comics Cataloger since I was eight years old, and I bought my very first comic book. It was a love affair from the start, and even though my meager twenty-five cent weekly allowance didn't leave me with a lot to spend, I managed to acquire lots of comic books. Being an only child, I found them the perfect companion, and I set out to learn as much about them as I could. The love of the art led me into a career as a graphic designer, and while that job had its rewards, I found that I wasn't happy until I opened a store where I could sell all the old stuff I craved so much, including comics, movie posters, old coins, advertising signs, and so on. I called it Mr. Nostalgia. Those were happy times, but after a while, economics forced me back into graphic design. I had to make a living!
While working one of many graphics jobs, I tried my hand at writing. I discovered that I had a knack for putting sentences together, and so, just for fun, I began publishing Mumbo, a little magazine about the things I was interested in. How little I knew this enjoyable habit of writing would soon come in extremely handy.
The graphic design business is a competitive one, and after many years of toiling in it, I found myself ready to move on. At my age, switching careers is a tricky thing to attempt, but by chance, I found myself applying at Heritage. I'd known about this company for years, even doing some freelance work for the Coin department many years ago. Now I was ready to start writing professionally about the subject so dear to my heart, and even though I had little professional experience in this field, Heritage recognized my knowledge and love of comics and other collectibles. It was the best break I've ever had, and I know it was an answer to a prayer. And being here has allowed me to help so many people who call in, needing information about that stack of old comic books found in the attic, or that piece of comic art passed down from a relative. Sometimes I have to be the bearer of bad news, but even when I have to "crush a dream" by telling someone the comic they have is worth much less than they had hoped, I still get a lot of thanks from people grateful to know they can get an honest answer from a friendly voice.
It's now been over eight years since I was hired here. It's not an easy job; there have been many weekends I've spent hunched over my computer here, hard at work on a catalog. I don't really make the "big bucks," and promotions seem to evade me. But I wouldn't want to work anywhere else. I'm not the type to win prizes, so I'm letting you know that's not my reason for writing this. I get my prize every day I work here, and I can honestly say, for the first time in my long life, that I'm happy to come to work every single day. Who could really ask for more than that?
- David Tosh
Comics Cataloger
---
Samuel Foose's Story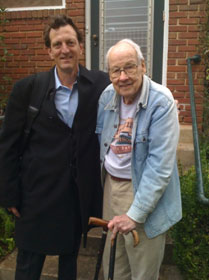 I "fell" into this job because I needed one at the time. I have worked at Heritage Auctions for over 15 years now, and I have loved it from the start. When my career here began, the auction house part of our business had 5 employees, that's right 5. Now we're at 393 and growing.
"Back in the day", as we refer to that time now, we all cross-functioned. One day we might be drafting a proposal for a million dollar consignment (although I must admit there were fewer of them then), and the next day we might be proofreading a catalog in the wee hours of the night trying to get it to press. It was exciting, stressful, hard work, and fun. It was during these early years that I grew to love the people that I work for and with. I met my wife here. I had children. I grew up.
Nowadays I am more specialized. As a Consignment Director, I serve my highest and best use for the firm, and although I get nostalgic about the early days, fact is, I'm having more fun now than ever. I get to travel to places that I might never see otherwise. I get to see interesting collections and properties that I might never be privileged to see otherwise. But most gratifying to me is that I get to meet the most lovely, and interesting people from all walks of life. When I'm engaged in the proverbial cocktail party conversation and I tell someone what I do for a living, the typical response is to ask something like, "What's the coolest thing that you've seen?", or "I bet you get to see a lot of interesting things". Indeed this is true, but I always tell them that for me, it's the people that I meet that I enjoy: their collections, their work, their families, their lives. It is a joy.
I once sat on the floor of a den in Florida packing up a consignment with an 85 year old retired WWII Veteran and former Air Force General and listened in awe while he told me matter-of-factly the story of when he was a 19 year old pilot on his 123rd mission and was shot down in a vineyard in France and taken prisoner by the Germans. I'll never forget it. And there are many, many more tales that others have shared with me over the years. I have a library of them in my memory banks.
Why do I LOVE working at Heritage Auctions? I can't imagine doing anything else.
- Samuel Foose
Consignment Director