Guided Navigation
What is Guided Navigation?
How do I narrow my search?
How do I expand my search?

What is Guided Navigation?
Guided navigation is the ability to add and remove keywords and categorizations of items to filter your results. As you add these filters, they appear in the breadcrumb trail above the search results. You can remove any filter from the breadcrumb trail at any time.

How do I narrow my search?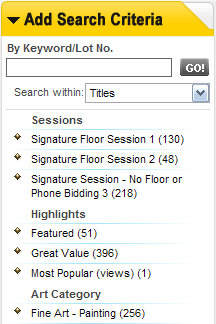 You can add a filter in the left column, such as "Art Category", "Current Bid Range", "Reserve Status", and so on. Each time you make such a selection, the listing of results will become smaller, showing only those items that meet all the criteria you have selected. You can also enter one or more keywords, such as "Warhol", if that will help your search. Sometimes a new selection will open up new sub-selection possibilities; for instance, once you choose to look for Silver Holloware, you can then choose Bowls, Cups, Pitchers, or whichever suits your collecting interests best.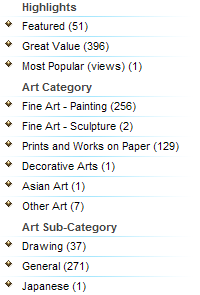 How do I expand my search?
You can add or drop fields or keywords from your results at any time. Above the listing of results is a complete list of the filters you have selected. Click on the remove link next to any filter to remove it, and the page will refresh to show all items matching the new broader specifications.

For Example:
Imagine - you collect paintings. How do you search for them on the Heritage site?
In the past, there have been several different places to look for them, depending on the where the item was created and the time period. However, there was no way to look for just "Paintings".
Our targeted searches are much more powerful. Choose one from Art Category:
Fine Art - Painting
Fine Art - Sculpture
Prints and Works on Paper
Illustration Art
Photography
Art Glass
(etc.)
Now, you'll see a set of art subcategories:
Hudson River School
Impressionism
Landscape
Marine
You can choose to look for only items from a specific location:
American
Unspecified
Continental
Western & Texas
British
If you're only interested in art from a specific time period, you can choose that:
Antique (Pre-1900)
Modern (1900-1949)
Contemporary (1950 to present)
Unspecified
Perhaps you have a budget. You can choose art in a specific price range:
$1 - $100
$101 - $1,000
$1,001 - $10,000
$10,001 - $100,000
$100,001 >
And, if you like - add a keyword (use the box right below "Refine Your Results"):
To change your search from Paintings to Illustration Art, click "Remove" next to your selection of Fine Art - Painting at top, then choose "Illustration Art" from the list of categories on the left.
Keep in mind always that your available search selections are on the left side of the page, and that the listing of selections you've already made is at the top, and that you can always remove a selection you've already made by clicking on the "Remove" link next to it. Remember: you can make your selections in any order!